A quest is a sort of mission that you can create and assign to your players. When players complete a quest, they can be awarded points. We support two types of quests: Surveys and Quizzes.
A survey doesn't have any right or wrongs and player points aren't based on player answers. Surveys can also be anonymous. For Quizzes players get points based on their performance and there might even be a level that must be reached to complete the quest.
Quests are made up by activities. Every quest can have one or more activities. Each activity consists of a description, an image and of one or more elements. An element can be a youtube video, a multiple-choice response form or a comment form.
By combining activities and elements you may create a survey or a quiz with embedded images and YouTube videos.
Go to Quest menu and press on the big plus button and click on the type of quest you want to create.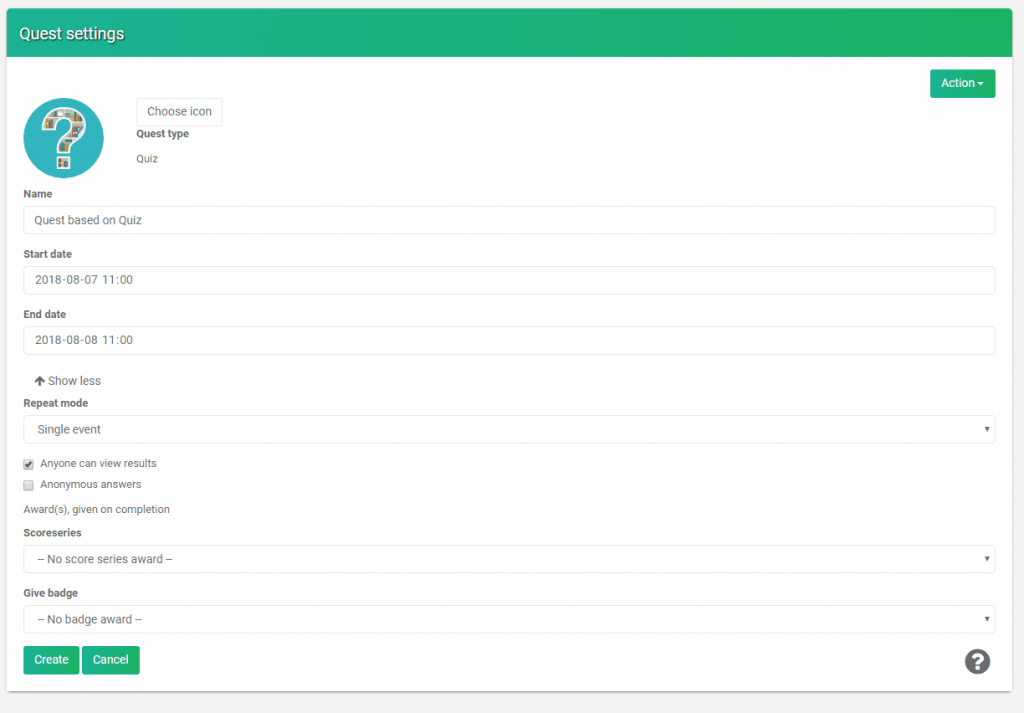 Name – Your name of the quest.
Start date – The quest will not be available to players before this date
End date – The quest end date.
Repeat mode – Select if the quest should be repetitive. Weekly, Monthly, Quarterly or Yearly.
Anyone can view results – If checked everyone can view the results. If unchecked only admin can view results.
Anonymous answers – If checked, individual answers are masked. Even for admins.
Score Series – Select a score series if you want to award players points in a score series upon completion of a quest.
Points / Quiz result – Select if players should be awarded a fixed number of points or the total quiz score.
Reward points – Number of points to be awarded to players that completes the quest.
Give Badge – Select a badge to give to players that completes the quest.
Quest activities
Once you have created the quest you can add activities to it. Activities are like sub-quests each consisting of a description, an image and of one or more elements. An element can be a youtube video, a multiple-choice response form or a comment form.
Title, description and image are shown to the players at the start of each activity. For each activity you may set a minimum score that a player need to complete a quiz.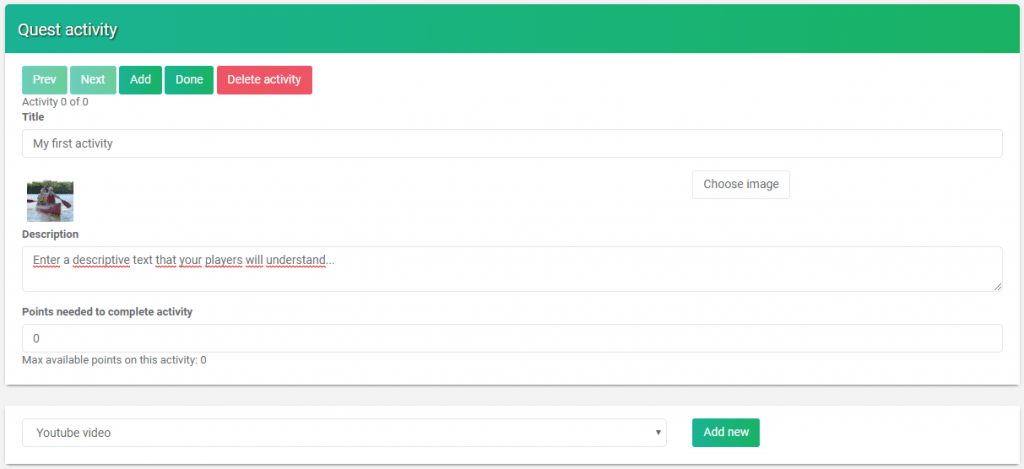 Activity elements
There are three types of activity elements.
Multiple choice – A traditional multiple choice element where each answer can award points to a player.
Comment – A free text input form where players can provide feed back.
YouTube  video – A YouTube video that players should watch to complete the activity.
Add players to quest
Use the add players button to invite players to your quest.
Quest Action menu
Reset quiz answer – Reset all quiz answers.
Test – Try out your quest design, no scores will be kept.
Template from this – Create a template that can be reused.
Remove quest – Completely removes the quest and all associated actions, elements and results.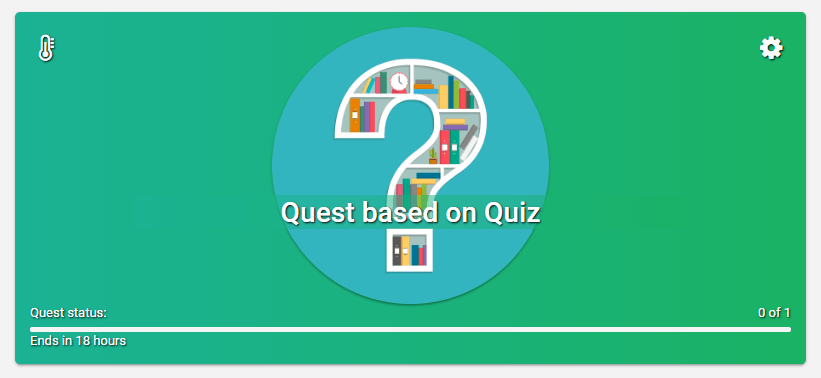 Press the 'thermometer' icon to access quest follow-up. The icon is available for admins only unless the 'Anyone can view results' attribute is set for the quest.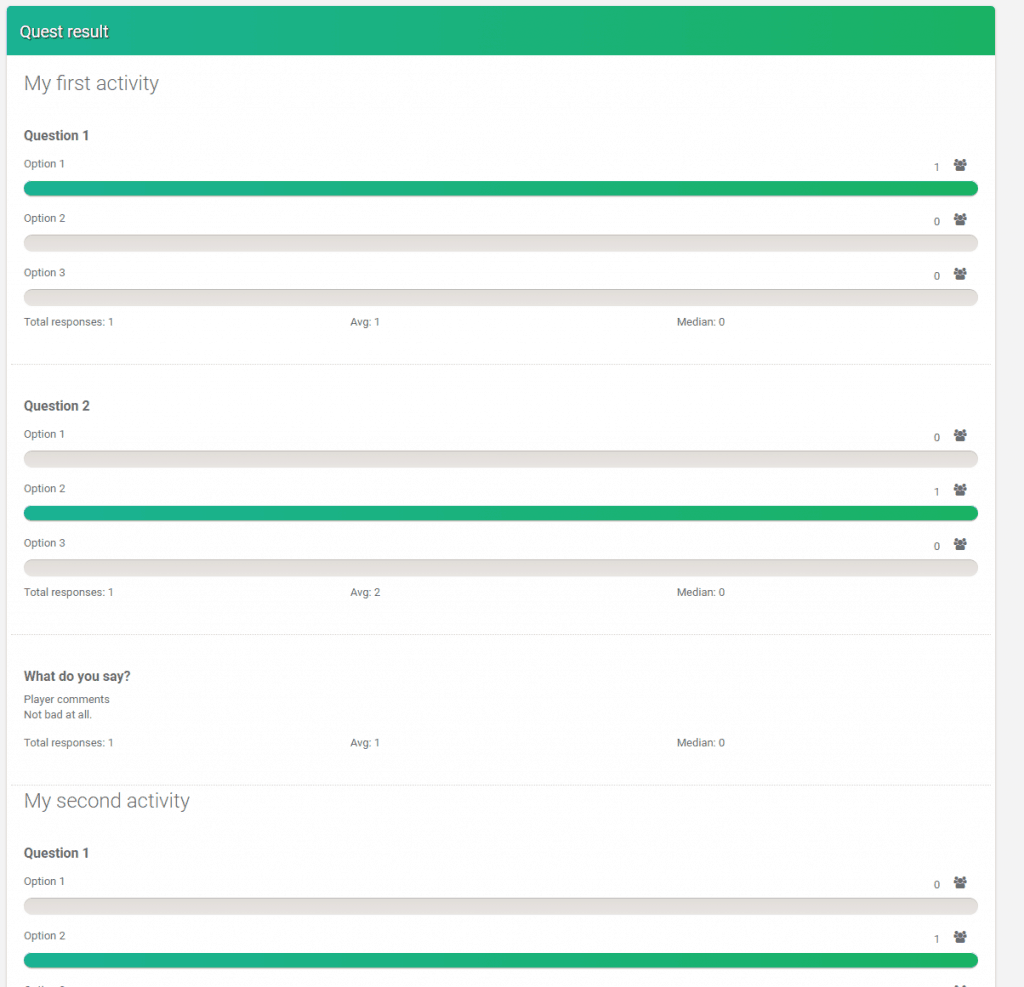 The follow-up page contains information on how players responded to your quiz/survey.